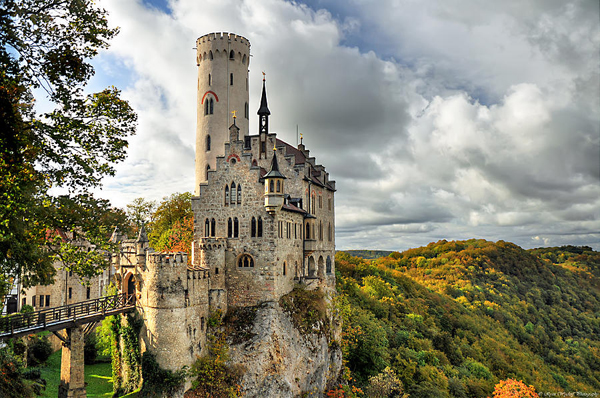 An old ruin refurbished in to a new and enchanting castle is the description that may be apt for the Lichtenstein Castle which stands in the region of the Swabian Alb of Germany. The Lichtenstein Castle is built on a cliff and is not very far from Stuttgart.
The actual date of the oldest construction in the location goes back to 1200. The castle which existed that time got destroyed once during the War of Reichskrieg which happened in 1311 and once again by the city-state of Reutlingen during the 1381. Since, after none of these were there any efforts towards the reconstruction of the castle it eventually fell in a state of disrepair and ruin.
It was in 1802 when the land went in to the control of Duke Frederick I of Wurttemberg that he got a hunting lodge constructed in the place of the ruin. After him, the land then got a new owner in the form of his nephew named Duke Wilhelm of Urach and he, after getting inspired from the novel Lichtenstein got the castle constructed. The construction of this romantic castle happened between 1840 and 1842. The Lichtenstein Castle seems to be neo gothic in style and is a true representative of the medieval age.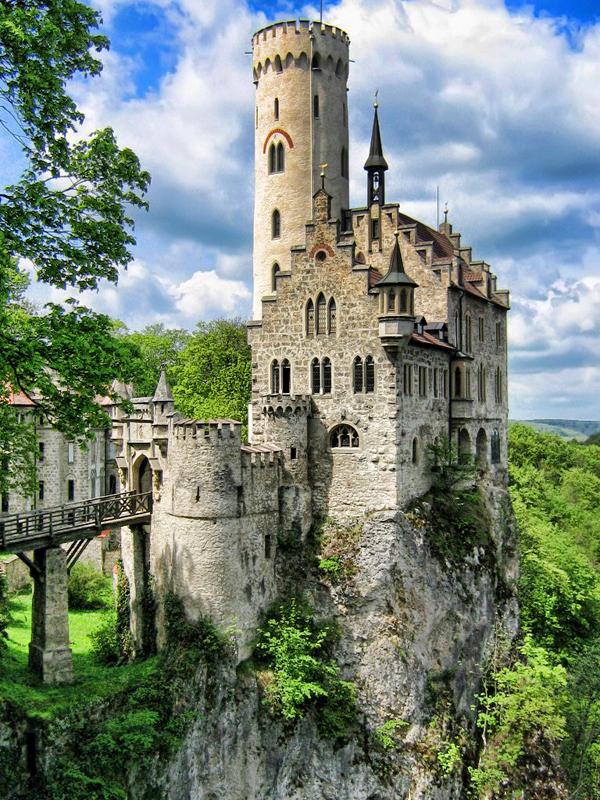 Though the Lichtenstein Castle is still under the ownership of the Dukes of Urach but, it is also open as a public attraction for tourists visiting the various parts of Germany. In addition to the scenic beauty around the Lichtenstein Castle there are also a number and variety of medieval weaponry and armoury which are on display for the tourists inside the castle.
The Lichtenstein Castle is comparatively a smaller castle as compared to the others present in Germany however, that does not reduce the flow of tourists to the location primarily because of its quite and scenic surroundings which also has tourist friendly facilities like parking, restaurants, and so on. It is usually a good one day destination.
The Lichtenstein Castle opens for tourists every day during the months of April to October. The timing usually remains from morning 9 to evening 5.30. However, during the months of November, February and March the timing of the castle during weekends is from morning 10 to evening 4.30. There are tours available within the premises of the Lichtenstein Castle, most of which may be in Germany but are accompanied with some cards for tourists who only speak English so as to ensure they do not miss any information. There are fees for admission as well as tours along with the provision of enjoying costume tours as well with prior reservations.