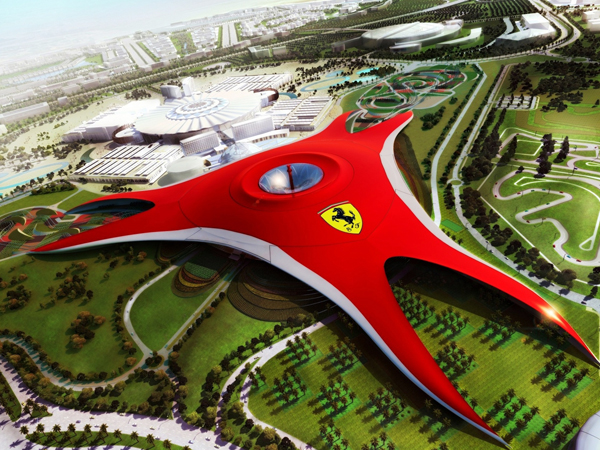 Theme parks are always known to be amusing places and when it is the Ferrari World of Abu Dhabi then the amusement and excitement reaches a new level altogether. The theme park of Ferrari World which started in November 2010 covers a roof area of 200,000sq metre and is thus known to be the largest amusement park of the world created indoors.
The Ferrari World of Abu Dhabi is inspired from the Italian brand Ferrari and showcases a number of Italian heritages too. One of the many spectacles of the Ferrari World is that it has the fastest roller coaster of the world named Formula Rossa. It gives you a chance of enjoying speed up to 240km/h and feeling the adrenaline rush which one gets while nearing the finish line of the Grand Prix. The making of the entire Ferrari World has taken help of structural, geotechnical, and facade engineering to name some. The architect of the project has been Benoy Architects who have developed this theme park of 86,000 sq metres and adorned it with a big logo of Ferrari on the entrance.
The attractions of Ferrari World have something to offer for all ages of visitors. The rides of the theme park are thrilling and exciting. There are about 20 rides which can be enjoyed by individuals and families. Some of them are Bell'Italia which presents recreated forms of Italian famous structures, landscapes and cityscapes. The Tyre Twist which is the tea cup ride, the Cinema Maranello which is a time machine back to the 1920s, Driving with the Champions which is a 3d show of a Ferrari engineer's life, Junior Training Camp where the kids can have their share of driving a foam modelled car, and the list goes on.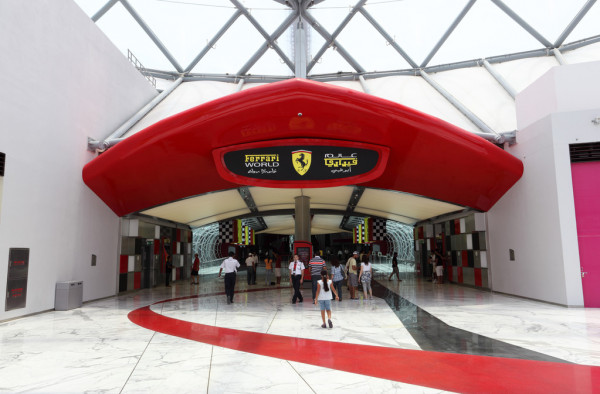 The Ferrari World has been created as an outing spot which can keep people engaged for an entire day. So, apart from the amusing rides there are also theme stores which sell Ferrari inspired artefacts. In fact one of the retail stores of the park is known to be the largest Ferrari Store in the entire world. If you want to boast of a personal connection with Ferrari then the Ferrari boutique gives you the scope to fulfil the dream. There are also a number of food and beverage joints which serve authentic Italian as well as other types of desired cuisines. The dining capacity of the theme park is 1200.
The best part of visiting the Ferrari World is that you can make a plan on any day as it is open all seven days of the week. It has the additional services of valet parking, prayer rooms, and so on. The tickets of the park are available both onsite and on the net. So, do not miss the opportunity of living your dream in the first amusement park of its own kind in the Ferrari World of Abu Dhabi.