If you enjoy observing the wonders of nature and mankind's harmonious existence in it then, Cappadocia in Turkey will certainly fascinate you. It falls in the Central Anatolia region of Turkey and is famous amongst tourists for its rocky landscape which is shaped like a nose ring and has underground cities and churches which are carved out of rocks.
The world of Cappadocia is very different as here man co exists with nature in a landform which looks straight from moon. The entire landscape is full of fairy chimneys which are unique rock formations which got formed as a result of strong winds, neighbouring volcanic eruptions and eroding actions of rains. Under these rocks people have claimed shelters for many decades using them as hideouts. These people were mainly known to be Christians who took refuge in the landscape during the Roman Era and built churches which they then adorned with Byzantine frescoes.
The entire Cappadocia is divides in to sub regions like Nevsehir, Urgup, Goreme, Avanos, and so on and gives a surreal feel where the pace of life is slow, casual, and lastly very warm. A number of boutique hotels are now available in the under rock dwellings where people can stay and enhance their enjoyment by going for early morning hot air balloon rides above the fairy rocks. Each of the province has its own speciality like Goreme is famous for its cave houses and Chimney rocks, Avanos is famous for its pottery, Urgup falls in the heart of Cappadocia and so on and there are also the Cappadocian markets which are known to have existed from the Ottoman times and give a feel of being amidst a caravan environment.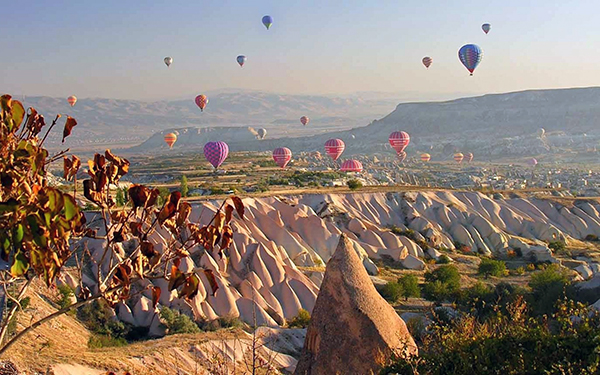 The comparison of Cappadocia as a tourist spot cannot be done with the fast Turkish cities like Istanbul which are serves as a popular tourist destination. The main elements of fascination in Cappadocia remain its geology, history and culture. The Goreme region of Cappadocia is also has a monastic importance and therefore the Goreme Air Museum is also a favourite destination of monastic communities who visit Turkey. It is a complex which has about 30 churches and chapels all of which are carved out of rocks and adorned with marvellous frescoes which date back to 9th or 11th centuries.
It is because of all these reasons that Cappadocia has also received lots of importance from media as there have been documentaries about the topography and also commercial shows have filmed the region. The best way of reaching Cappadocia is by airway as there are two major airports one of which is in Kayseri which have flights going via Istanbul. As all major flights from across the world are available in Istanbul, you can reach Kayseri from where there are shuttle bus services going to Cappadocia. The second airport is in Nevsehir which only has Turkish Airlines operating twice a day. As the population in Cappadocia is limited therefore, the options for transportation are also less and have to be carefully chalked while planning a trip.