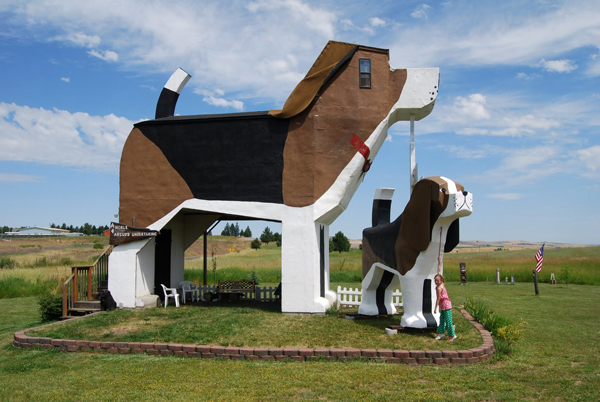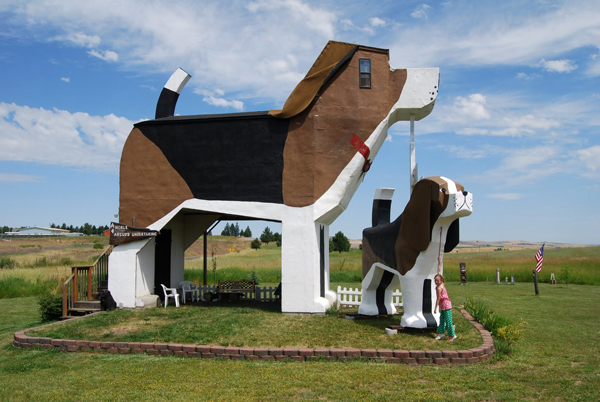 A keepsake of the old tradition which has a height of 30 metres, the biggest beagle of the world named Sweet Willy, the Dog Bark Park Inn is a hotel which stands on the roadside in the US state of Idaho for those travellers who wish to take a momentary haul in midst of their journey. As the Dog Bark Park Inn is built in the shape of a beagle according to the early architectural style of making buildings in shape of something, it is called as Sweet Willy by the local residents. It is the creation of artist couple Dennis Sullivan and Frances Conklin.
The Sweet Willy brings forth the old American tradition of roadside architecture where travellers used to stop for gas, meals or also sometimes for overnight stay. The Dog Bark Park Inn therefore is equipped with a single room which has a bathroom and also a loft. It is a sign of convenience for the passing by travellers. The Sweet Willy is also given company by other animals, like bears, moose, and fishes, which have been hand carved by the duo. The most important amongst them is Toby which yet another oversized beagle of the world in a statue form with a height of 12 foot. They have invested the entire profit of their life in building the Dog Bark Park Inn and here there are 60 different breeds of dogs in varying poses which have been carved in the style of old folk art. Some of the creations have been done by the couple on the basis of photographs they have been given by their customers.
In the premises of the Dog Bark Park Inn, while there is a facility for bed and breakfast, there is also a cafe, a gift shop, a visitor centre, and also the gallery of the couple which displays the various breeds and poses of the dogs they have carved over the years. It is thereby a good one day tour destination where families and friends can visit in groups. The opening of the bed and breakfast inn happened in the year 2003 and is still maintained by the couple. Such is the geniality of the elderly couple that they claim to help their visitors by assisting them in making their vacation plans and sharing their life, travel and dogs stories with them. They usually prefer to be informed at a prior hand about the visits and encourage touring and educational groups to visit them. Providing a very homely experience to the travellers they call themselves operating the mom and pop operation. It is thus a unique experience to be had once in a lifetime.