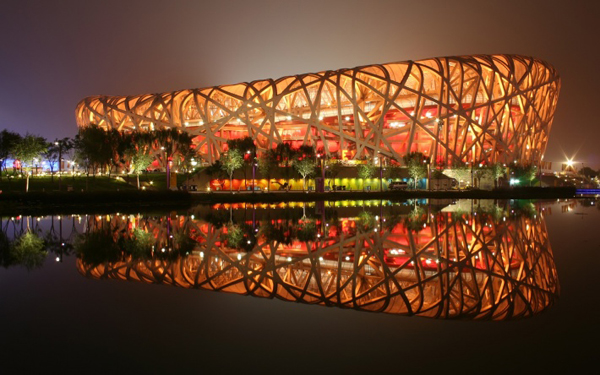 Unique in its appearance, the Beijing National Stadium is also nick named as the Bird's Nest by the people of China. It is located in the Olympic Village of Chaoyang District and was built primarily to host the 2008 Beijing Olympic Games.
After the finishing of the games though, the Beijing National Stadium got open for tourists but it simultaneously conducts both internal and external sports competitions as well. The people behind the standout design of the Beijing National Stadium are Jacques Herzog and Pierre de Mueron. Both are architects from Switzerland. They were also joined by the Chinese architects like Li Xinggang and others who simply used steel for creating the structure of the stadium and then kept the steel work exposed to give it a unique look.
The construction of the Beijing National Stadium is known to have costed about US$423 million and is known to be influenced from the Chinese ceramic works. The building time of the Beijing National Stadium was from 2003 to 2008. The total area covered by the stadium is 258 thousand square metres with a seating capacity of 80,000 people who can be seated on the permanent seats and a provision of attaching 11,000 makeshift seats. As the steel of the stadium is exposed so, a semi transparent film is used to cover the exterior so that while there is some kind of protection to the structure, the penetration of natural light also does not get hampered. This ensures a good growth of the grass on the lawns.
The scientific studies and devices which have been used in the making of the Beijing National Stadium ensure that spectators can watch the games clearly from which direction they sit in and also listen and see the broadcasts clearly. There are also provisions of wheelchairs for the disabled people so as to indicate that every person has the ability to perform and enjoy sports. The other standout qualities of the Beijing National Stadium include the rainwater collector which collects and purifies the rainwater so as to make it reusable in the stadium. The pipes of the stadium are placed beneath the plating parts so that they remain warm during the winters and cool during the summers. The ventilation of the stadium is so organised that even the person sitting at the farthest point does not feel any discomfort.
To increase the popularity of such well quipped sports arena efforts are being taken to create hotels and shopping malls around the place and also overlooking the grounds. Apart from the 2008 Olympics and Paralympics, the Beijing National Stadium has also hosted events like the opera of Turandot, the final match of the Supercoppa Italiana in 2009, the Race of Champions held in 2009, and so on. The other events lined up for the Beijing National Stadium include the 2015 World Championship in Athletics and so on. A couple of pop stars have also has shows in the Beijing National Stadium.